Lycian Way 1. Stage
Description
LYCIAN WAY, 1st STAGE


Fethiye – Patara Trail (7 Days)
Trekking Programme
Day 1: Transfer and check in to the Hotel
Day 2. Trekking to Ovacık Village
Day 3: Trekking to Faralya Village
Day 4: Trekking to Alınca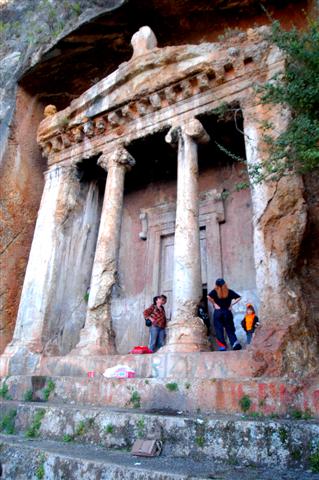 Day 5: Trekking to Bel
Day 6: Trekking to Patara
Day 7: Visit to Xanthos and Letoon
Day 8: Return transfer
(for Minimum 4 pax party size) Price per person: 1.100 TL
INCLUDED?
7 Nights Hotel accommodation, two people in double room
Breakfast
Lunch box
Dinner
Transfer for Walker's bags between the Hotels
Information kit
24 Hours a day Telephone communication between the office and group members
NOT INCLUDED?
Airport /Bus Stop - Hotel transfers
All kind of drinks
Personal expenses
Professional Trekking Guide
Professional Official Guide for Museum and Ancient Sites
Entry fees to Natural Parks, Museums and Ancient Sites
OPTIONAL EXTRAS:
Trekking Guide: 235 TL / Per Day / Per Group

Dalaman Airport - Fethiye Hotel transfer: 100 TL / Per Group / one way
Antalya Airport - Fethiye Hotel transfer: 300 TL / Per Group / one way
Official Guide: 250 TL / Per Day / Per Group
NOTES: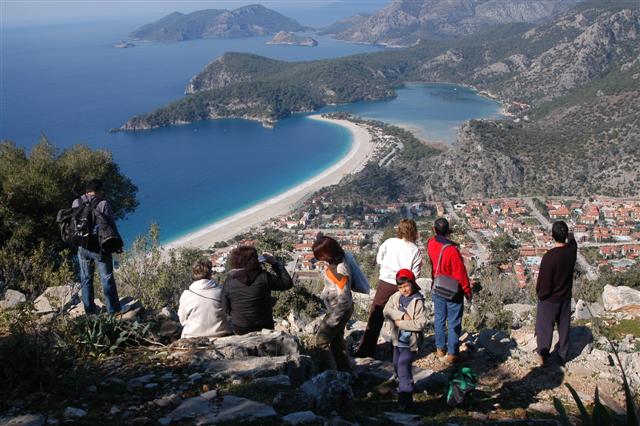 Trails are mostly in medium difficulty level.

Small and family run Hotels en route are arranged.
Walker's bags are transferred to each hotels every day.
Settlements, natural- historical and cultural heritage en router:
Telmessos Necropolis: Located on the slope of the South Hill of Fethiye Town. The "temple type tomb" in the necropolis was built for King Aminthas of Telmessos in IV BC, which is the biggest rock cut tomb in Lycia. The citadel next to the necropolis was built in 11th AD when Telmessos was under the rule of Rhodians.
Kaya Köyü: 7 km far from Fethiye, Kaya Köyü was founded on the ruined Ancient Lycian town Karmylassos. After Lausanne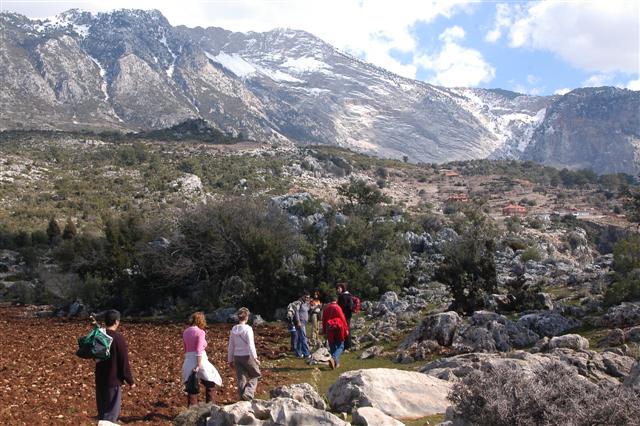 Treaty in 1923, the village turned into a ghost town according to a population exchange agreement signed up between Greek and Turkish Governments. Kaya Köyü is known as the village of peace and friendship because of its true life based on friendship and solidarity among people who have different religions and cultures.
Butterfly Valley: 6 kmsfar from Ölüdeniz, where Jersey Tiger called butterflies live; Butterfly Valley is a gorgeous natural cove out of modern town's techno-life and stresses. The Valley is not accessible for walkers because of the physical conditions. Therefore walkers are contented with taking pictures from a distance when trekking to Faralya Village.
Seven Capes: Seven Capes coastline is known as nightmare for seaman with its coves, capes and vicious waves. In contrast of coastline conditions, trekking on the trails is very enjoyable and soothing in front of spectacular views of the area.
Pydnae: Pydnai was probably once a small naval and military base fortress and guarded the very west end of Patara. The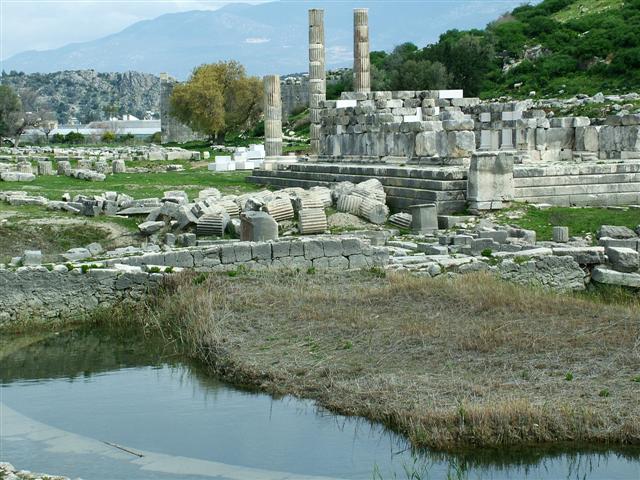 marshy area around it was once a bay and was probably a deep water harbour. It is made of well-preserved polygonal masonry with 11 rectangular towers at its corners and mid-way along the walls. It also has 7 protruding stairways which allowed soldiers to quickly scale its walls from the inside. Battlements were later added on upper walls. The only sign of construction within the walls is a small church.
Letoon: Letoon was the sacred cult center of Lycia, its most important sanctuary, and was dedicated to the three national deities of Lycia - Leto and her twin children Apollo and Artemis. Leto was also worshiped as a family deity and as the guardian of the tomb. Letoon lies less than 10 km to the south of Xanthos on a fertile plain. Xanthos and Letoon are often seen as a "double-site", since the two were closely linked and Letoon was administered by Xanthos.
Xanthos: Xanthos was the capital city of the Lycian Federation and its greatest city for most of Lycian history. It was made famous to the Western world in the 19th century by its British discoverer Charles Fellows. It is very old - finds date back to the 8th century BC, but it is possible that the site may have existed during the Bronze Age or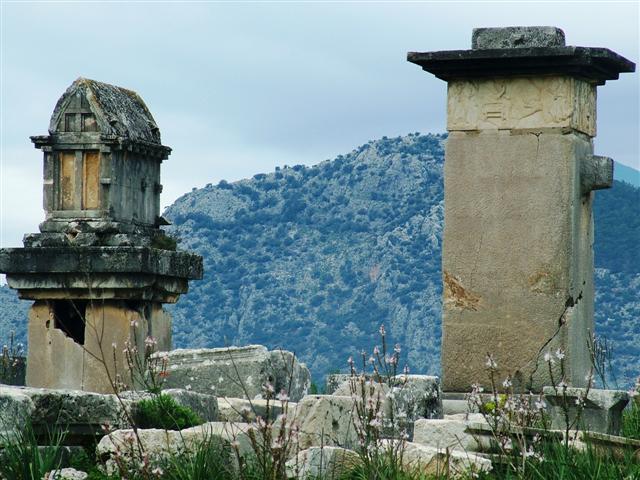 during the first centuries of the Iron Age. Xanthians are recognised with their great resistance and mass suicide for the sake of their independence and freedom against to Persians when their town was invaded by Persians in 546 BC.
Patara: Patara was one of the 6 principle cities and the major naval and trading port of Lycia. It is also known as the birth place of God Apollo and the symbol of Humanism; St. Nicholas of Myra. An extensive city with many ancient structures, including what may be the world's oldest lighthouse. Located right next to Patara Beach, voted one of the best beaches in the world.
Required Equipment

Trekking boots & spare laces

Trainers/approach shoes

Sandal / slipper

Socks

Daypack/rucksack (25-35 lt)

Waterproof jacket with hood

T-shirts

Trekking pants

Short trousers

Swimwear

Polar jacket

Towel

Sun hat / bandana

Camera & batteries & accessories