About Lycia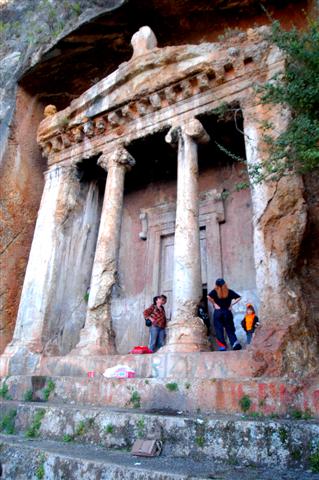 Anatolia is known as a cradle of civilisations where many different cultures has flourished since the ancient times. One of most interesting cultures of those, Lycians had lived in about 70 settlements in various sizes on the Teke Peninsula which streches between Fethiye and Antalya in South-West Anatolia. Lycian cities established the earliest democratic federation in the World history during the 4th BC against to Persian invasion when combined their forces.
Lycians were also known with their own language, scripts, matriarchal family system, believes and passion for independence and freedom. Therefore they always keep their social proud and honour on top of everything. They even has committed communal suicide for protecting their independence and freedom (read on Persian siege of Xhantos).
Earliest written documents about Lycians were found in Hittites archives which were prepared 3500 years ago. It is mentioned that, Lycians supported Hittites against to Egyptians at Kadesh in 1296 BC, which battle was ended with the earliest written peace agreement of World history. Also In Homer's Legend Iliad, Lycians were told as they supported Trojans against to Greek ancestors; Akhians.
Teke Peninsula as it is known as Lycian's homeland has a magnificant visuality with its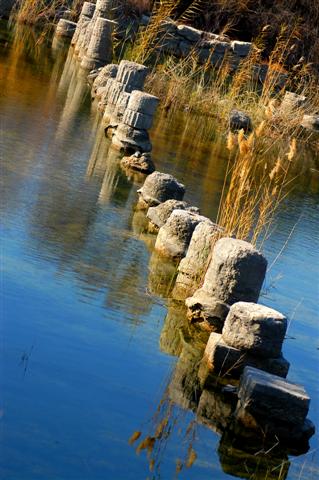 fertile plains between the rows of Taurus Mountains, rich flora, fauna and turquoise waters of Mediterranean. This land also has convenient features for almost all outdoor activities like mountain biking, off road driving, climbing, photo safaris, gurme and botanic tours, cultural excursions as well as trekking on Lycian Way and Fethiye trails.
Telmessos, Xanthos, Tlos, Patara, Pınara, Cadianda, Oenoanda, Letoon, Myra, Arycanda like Lycian towns are getting bigger interest by the visitors with archaeological excavations and restoration works. Xanthos and Letoon are also in UNESCO World Cultural Heritage List.
Earliest Parliament Building of World history, oldest Lighthouse of Mediterranean Turkey, temple of love built by heart shaped columns, Tomb of Mythological winged horse; Pegasus and his hero: Bellerophontes, rock cut monumental tombs and obelisks, Cyplops Walls built by mythological single eye giants, biggest sundial of the world, hundreds of Epicures philosophy scripts on the wall stones, hundreds sqm of floor mosaics covering houses and churches and the greatest rock cut temple type tomb are all in Lycia created by Taurus Mountains and turquoise Mediterranean waters...
You can visit our tours and activities pages to discover Lycian beauties by walking, cycling or 4X4 driving.
LYCIAN SETTLEMENTS
Lycian Settlement
Present Location
Lycian Settlement
Present Location
Akalissos
Asarönü- Yenikışla K.-Kumluca
Letoon
Bozoluk K.-Kaş
Aloanda
Kabaağaç K.-Kemer-Fethiye
Limyra/Zemuri
Turunçova/Yuvalılar
Andriake
Çayağzı--Demre
Lissa
Manastır Koyu-Kapıdağı Peninsula
Antipellos
Kaş
Lydai
Manastır K.-Kapıdağı Peninsula
Aperlai
Sıçak İskelesi-Kılınçlı K.Kekova
Myra
Demre(1km)
Apollonia
Kılıçlı K.-Kaş(22)km.
Nisa/Neisa/Nysa
Meryemlik-SütlüğenK.-Kalkan
Araksa
Ören K./EvrenK.-Kemer-Fetiye
St. Nicholas Church
Demre
Arneai
Enez- Günçalı K.-Fenike
Oinoanda
İncealiler K.
Arsada
Arsa K.Kemer-Fethiye
Olympos
Ulupınar K.-Çavuş K.-Kemer
Arykanda
Arif K.-Finike(30km.)
Patara
Gelemiş- Patara-Kaş
Balboura PİSİDİA
Çölkayığı- İbecik K.-Asartepe
Phaselis
Tekirova-Kemer
Balboura
İbecik K.-Asartepe
Phellos
Felen Yaylası
Boubon
İbecik K.(1.5km)-Dikremtepe
Pınara
Minare K.-Fethiye
Daidala
İnlice K.-Göçek
Pirha
Bezirgan K.Yaylası-Kalkan
Gagai
Yenice K.-yalı M.-Kumluca
Pisilis
Sarıgerme-Dalaman
St.Nicholas Island
Gemiler Island-Fethiye
Podalia
Söğle Karamık K.-Elmalı(25km)
Gilevgi hisarı
Özdemir K.-Elmalı-Korkuteli
Pydnai/kydna
Karadere/Özlen
Hoyran
Hoyran K.-Üçagız
Rhodiapolis
Eskihisar-Şeyhköy-Kumluca
Idebessos
Yenikışla K.-Kozagacı.M.-Kumluca
Rhodiapolis
Sarıcasu
İdyros
Kemer
Sebeda
Bayındır Limanı
İsinda
Belenli K.-Kaş
Sidyma
Asar- Dodurga K.-Fethiye
İstlada
Kapaklı K.-Üçagız
Simena
Kale K.-Kekova
Kadyanda
Üzümlü K.(9km)-Fethiye
Sourai
Sura M.-Demre
Kalynda
Kozpınar/Şerefler K.-Dalaman
Sura
Çayağzı - Demre
Kandyba
Gendiye- Çataloluk K.-Kaş
Teimiousa
Üçağız
karmylessos
KayaKöyü-Fethiye
Telandria
Tersane Adası-Fethiye Körfezi
Khoma
HacımularK.-SarılarK.arası-Elmalı
Telandros
Arpacı K.-Fethiye
Komba
Gömbe K.
Telmessos
Fethiye
Korba
Gökçeyazı
Theimussa
Üçağız K.-Demre
Korma/Kormi
Altınyaka K.-Kumluca
Tlos
Yaka K.-Saklıkent yoluFethiye
Kormos
Kormi/Karabük
Torianion
Kozağacı K.
Korydalla
Şeyhköy-Kumluca
Trebenda
Gürses Çayağzı
Krya
Bedrirahmi Bay
Trebendai
Myra çevresi
Xanthos
Kınık K.-Kaş
Trebenna
Çakırlar
Kyaenai
Yavı K.-Kaş(23km)
Trysa
Davazlar K.-Gölbaşı M.-
Kydnai/pydnai
Karadere K.Özlen M.Eşen-Fetiye
Tyberissos
Tirmisin- Çevreli K.-Üçağız(2km)
Kyra
Fethiye Gulf