Lycian Way 4. Stage
Description
LYCIAN WAY 4. STAGE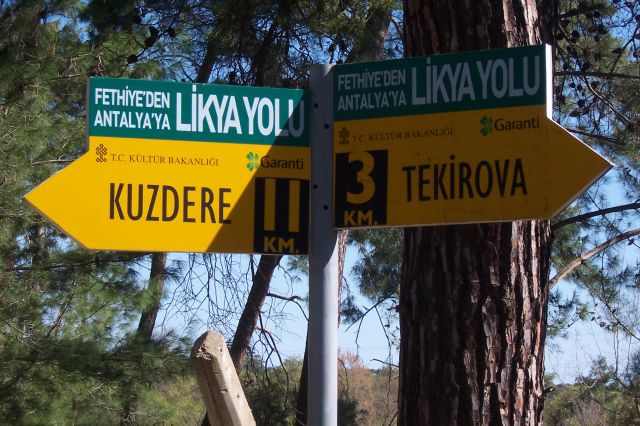 Patara - Myra Trails (7 Days & 8 Nights)
Trekking Programme:
DAY1: Transfer and check in to Hotel
DAY2: Trekking to Kuzdere
DAY3: Trekking to Gedelme
DAY4: Trekking to Tahtalı Mountain
DAY5: Trekking to Göynük
DAY6: Trekking to Hisarçandır
DAY7: Trekking to Antalya

DAY8: Return transfer
(Party size is minimum 4 people) Price: 1.100 TL / per person
INCLUDED?
7 Nights Hotel accommodation, two people in double room
Breakfast
Lunch box
Dinner
Transfer for Walker's bags between the Hotels
Information kit
24 Hours a day Telephone communication between the office and group members
NOT INCLUDED?
Airport /Bus Stop - Hotel transfers
All kind of drinks
Personal expenses
Professional Trekking Guide
Professional Official Guide for Museum and Ancient Sites
Entry fees to Natural Parks, Museums and Ancient Sites
Single room supplement
OPTIONAL EXTRAS:
Trekking Guide: 235 TL / Per Day / Per Group
Dalaman Airport - Fethiye Hotel transfer: 100 TL / Per Group / one way
Antalya Airport - Fethiye Hotel transfer: 300 TL / Per Group / one way
Please ask the other transfer prices
Official Guide: 250 TL / Per Day / Per Group
NOTES:
Some trails are in hard but mostly in medium difficulty level.
Small and family run Hotels en route are arranged.
Walker's bags are transferred to each hotel every day.
Settlements, natural- historical and cultural heritage en route:
Tekirova: 17 kms far to Olympus, Tekirova is situated on the slopes of Beydağları of Taurus Mountains. The town has is a popular tourist spot with its 5 kms long beach and interesting ecological values.
Phaselis: On the road from Antalya to Çıralı - Olimpos, at about 12 km from Kemer and near the resort of Tekirova are the remains ancient Phaselis (Faselis), a ruined Lycian city magnificently situated on a peninsula around three small bays. The ruins are not particularly exciting and are all from Roman and Byzantine times, but the combination of ancient remains within a forest that is surrounded by sea on three sides makes it a beautiful national park. The Roman aqueduct is the first and most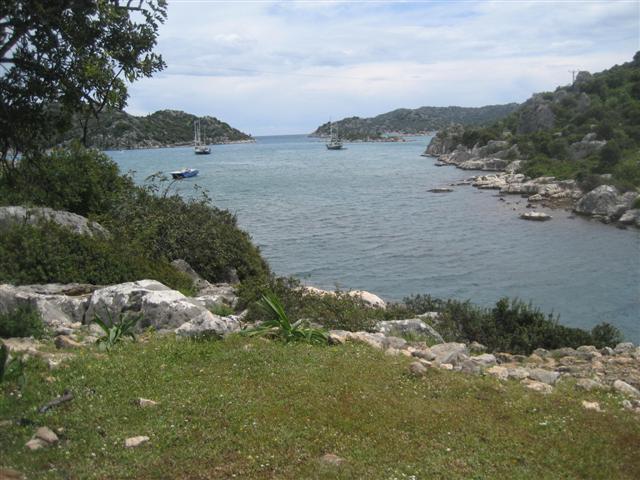 obvious landmark of the site. It is supposed to have beenone of the longest such conduits of antiquity. Phaselis is located around three small bays that served as harbours in antiquity and now form excellent swimming spots with nice beaches. The Roman theatre dates from the second century and could hold around 1500 people.
Gedelme: Gedelme Village is on 12 kms route from Kemer town of Antalya to Kuzdere Village and Kesme Boğaz. Remains of a Byzantium Fortress and a cave arequite close to the centuries old Plain Trees area of the village.
Göynük: GÖYNÜK is a plain in semicircular form extending from Beldibi to Kemer. With its fine sandy bay at the entrance of Kemer, is one of the daily resorts. The name Göynük is Gökbük in the Luwian/Etruscan language meaning "Fertile plain on the bank of a river at the joining point of the blue sky/blue". In ancient times the valley of Göynük creek always had an important position, therefore it remained under the control of the plunderers of Pisidia.In Göynük; canyon road opens to Üç Oluk Plateau following Lycian Way along the mountains following Göynük stream dividing Göynük from Beldibi.
Elmayanı Yaylası: Starting and ending point of Lycian Way, welcoming you with century old plain trees at the end of Göynük Canyon.
Hisarçandır: Çandır is Turkish name of the area. Hisar is meaning of "fortress". It is called Hisarçandır probably because of remains of ancient city walls right top of the rocks. TV and radio reflectors are placed on the near hilltop of the village. Therefore, the village is also recognised with these TV and radio reflectors.
Required Equipment

Trekking boots & spare laces

Trainers/approach shoes

Sandal / slipper

Socks

Daypack/rucksack (25-35 lt)

Waterproof jacket with hood

T-shirts

Trekking pants

Short trousers

Swimwear

Polar jacket

Towel

Sun hat / bandana

Camera & batteries & accessories