Lycian Way 2. Stage
Description
LYCIAN WAY 2. STAGE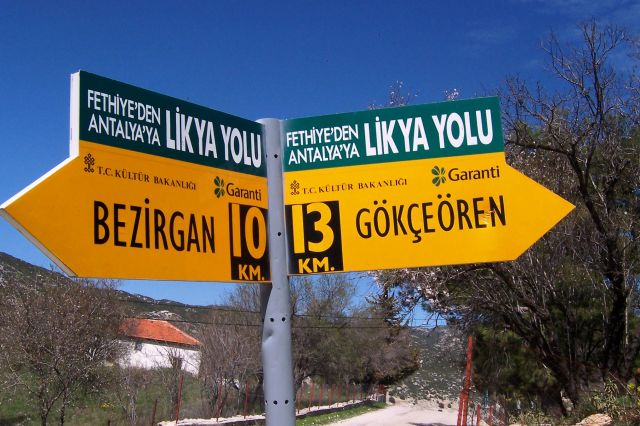 Patara - Myra Trails (7 Days)
Trekking Programme
Day 1: Transfer and check in to the Hotel
Day 2. Trekking to Bezirgan
Day 3: Trekking to Gökçeören
Day 4: Trekking to Kaş
Day 5: Trekking to Kılınçlı
Day 6: Trekking to Kekova
Day 7: Trekking to Andreke, visit to Myra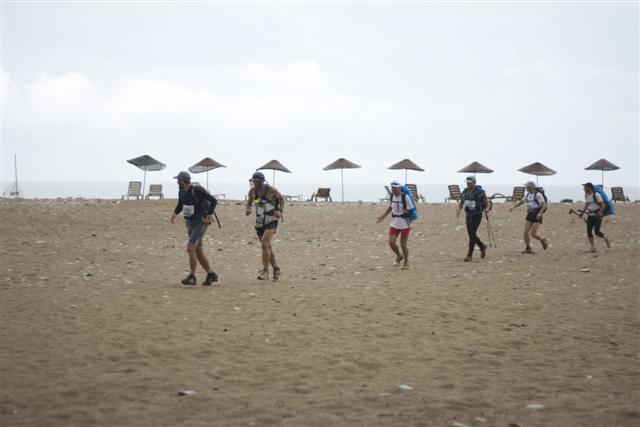 Day 8: Return transfer
(Party size is minimum 4 people) Price: 1.100 TL / per person
INCLUDED?
7 Nights Hotel accommodation, two people in double room
Breakfast
Lunch box
Dinner
transfer for Walker's bags between the Hotels
Information kit
24 Hours a day Telephone communication between the office and group members
NOT INCLUDED?
Airport /Bus Stop - Hotel transfers
All kind of drinks
Personal expenses
Professional Trekking Guide
Professional Official Guide for Museum and Ancient Sites
Entry fees to Natural Parks, Museums and Ancient Sites
Single room supplement
OPTIONAL EXTRAS:
Trekking Guide: 235 TL / Per Day / Per Group
Dalaman Airport - Fethiye Hotel transfer: 100 TL / Per Group / one way
Antalya Airport - Fethiye Hotel transfer: 300 TL / Per Group / one way
Please ask the other transfer prices
Official Guide: 250 TL / Per Day / Per Group
NOTES:
Trails are mostly in medium difficulty level.
Small and family run Hotels en route are arranged.
Walker's bags are transferred to each hotel every day.
Settlements, natural- historical and cultural heritage en route:
Patara: Patara was one of the 6 principle cities andthe major naval and trading port of Lycia. Itis also known as the birth place of God Apollo and the symbol of Humanism; St. Nicholas of Myra.An extensive city with many ancient structures, including what may be the world's oldest lighthouse. Located right next to Patara Beach, voted one of the best beaches in the world.
Phellos: Founded on the hills of Felen Plato where 12 km far from Kaş town. The side settlement of the village called Antiphellos was its port. Polygonal walls coming from ancient periods are still visible.
Apollonia: Apollonia is meaning of Home of Apollo andrecognised as it was one of the members of Lycian Federation. According to
remains, the town was founded around 5th BC at Kılınçlı Village, where is 22 km from Kaş town on the way to Kekova. Remains of A Byzantium Church, Theatre, Bath and a monumental tomb (Heroon) are still existed in the site.
Aparlae: Located at Sıçak Peninsula. Foundation of town is going back to 5th BC according to the coins found in the site. Aparlae was a member to Lycian Federation in the same time with İsindi, Simena and Apollonia. Remains; including a church, a chapel and sarcophagi are coming from Byzantium and following periods.
Sıçak Peninsula: Placed on the south point of Teke Peninsula after Uluburun where best of Lycian coastal towns were founded. East side of Sıçak Peninsula also makes border line of Kekova.
Simena: The ancient city of Simena was once of two parts - an island and a coastal part of the mainland. On the mainland the charming fishing village of Kaleköy ("castle village") stand today, its buildings mingling with ancient and medieval structures. The top of the village is dominated by a well-preserved castle built by the Knights of Rhodes partially upon ancient Lycian foundations.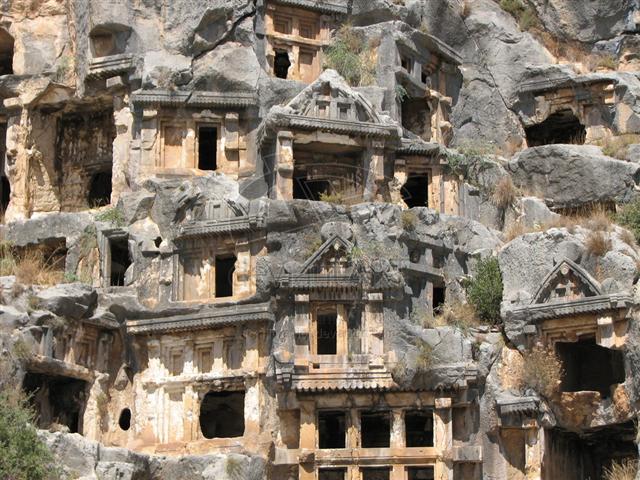 Üç Ağızlar: The village is a natural harbour and a wery well protected bay for the yachts and fishermen. Remains, possibly dated to 4th BC on north-east point to settlement of ancient Theimussa town. In the necropolis east of the bay many sarcophagi can be seen, which are coming from Hellenistic and Roman periods.
Andreake Limanı: The harbour of Andreake was enlarged and provided with new facilities by Emperor Trajan in order to use it as a logistic base for his military expeditions at the eastern border of the Empire. Emperor Hadrian, who was less keen on war matters, built a very large granary, which apparently was not significantly damaged by the 141 AD earthquake. A similar granary was built at the same time at Patara with the objective of increasing the reliability of wheat supplies to Rome. .
Myra ve Aziz Nicholas Church: One of the six principal cities of Lycia. Known for its many rock-cut tombs and the largest amphitheatre in Lycia (in a good state). Nearby is the Church of St. Nicholas, who was once the bishop of Myra and grew to international fame.
Required Equipment

Trekking boots & spare laces

Trainers/approach shoes

Sandal / slipper

Socks

Daypack/rucksack (25-35 lt)

Waterproof jacket with hood

T-shirts

Trekking pants

Short trousers

Swimwear

Polar jacket

Towel

Sun hat / bandana

Camera & batteries & accessories